Request a free quote from Gorilla Dumpster Rentals for your next debris hauling project. We offer affordable rates and excellent service for Dumpster Rental in Branford, East Haven, Guilford, Madison, Clinton and surrounding cities. Call us at (203) 208-0517 or use the form below.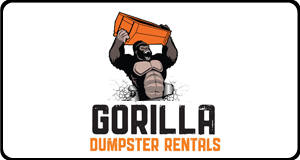 Gorilla Dumpster Rentals
Hours of Operation:
Monday – Friday: 6:00 am – 5:00 pm
Saturday: 6:00 – 2:00 pm
Sunday: Closed, please use Contact Us below.
Phone: (203) 208-0517
Payment Methods: