We are offering No Contact Dumpster Rental – All signatures are done online, honoring social distancing rules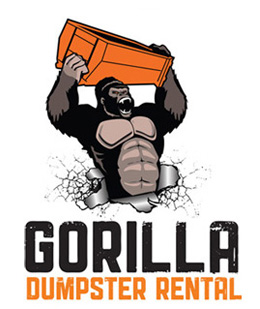 Gorilla offers 12, 15 and 20 cubic yard dumpsters at prices that won't break the budget. Our prices are the most affordable and transparent around and include everything – there are no delivery fees, pickup fees or transportation fees. Call (203) 208-0517.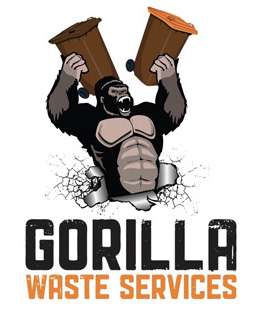 We offer reliable weekly Garbage Pickup along with every week Recycling! Brand new 95 gallon wheeled toters recycle/garbage along with state of the art trucks. Annual rate lock available, call us to start your residential weekly pickup at (203) 208-0517.
Stop Monkeying around – Call and order a dumpster from GORILLA! (203) 208-0517
Services
Residential and Construction Dumpster Rental in Branford CT
Residential Waste Service in Branford CT
Dumpster Sizes
Gorilla Dumpster Rentals is the hassle-free solution for all of your waste removal needs.
*Sizes are approximate - Actual dumpster sizes may vary.
*No tires, mattresses, refrigerators, freezers or hazardous wastes accepted.
Dumpster Sizes in Branford Connecticut

Dumpster Size:

Dimensions:

12′ L x 8′ W x 4'H

16′ L x 8′ W x 4.5'H

16′ L x 8′ W x 6′ H

Rental Period:

1 -2 Week

1 -2 Week

1 -2 Week

Includes:

Drop off and pickup

Drop off and pickup

Drop off and pickup

Overage Charge:

$110/ton charge

$110/ton charge

$110/ton charge
Same Day Delivery Available – Call (203) 208-0517 for Details
Service Area
Our dumpster service area includes, but is not limited to the following cities. If your city is not listed please call our customer service to see if we service your area.
Ansonia, CT
Bethany, CT
Branford, CT
Cheshire, CT
Chester, CT
Clinton, CT
Deep River, CT
Derby, CT
Durham, CT
East Haven, CT
Essex, CT
Guilford, CT
Haddam, CT
Hamden, CT
Killingworth, CT
Madison, CT
Milford, CT
Naugatuck, CT
New Haven, CT
North Branford, CT
North Haven, CT
Old Saybrook, CT
Orange, CT
Prospect, CT
Seymour, CT
Shelton, CT
Wallingford, CT
West Haven, CT
Westbrook, CT
Woodbridge, CT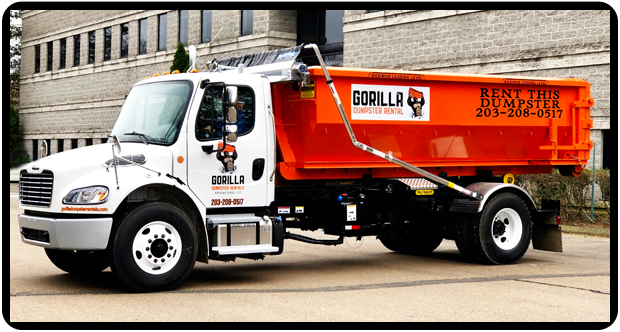 We are a family owned and operated business serving Branford, Guilford, Madison, Clinton, East Haven and outlying areas. We offer 12, 15, 20 yard dumpsters for rent. Our dumpsters are great for construction projects, realtors, residential clean outs, property managers, or any trash removal project.
You can expect prompt, affordable dumpster service and excellent customer service. We do what it takes to meet the needs of our clients – You're not just a number at Gorilla Dumpster Rentals!
Our friendly customer service will help you figure out what size roll-off you need for your project. From scheduling your dumpster to dumpster placement, we are here to serve you and all of your disposal needs.
Call us at (203) 208-0517 with any questions, or request a quote today.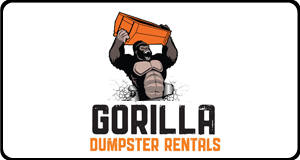 Gorilla Dumpster Rentals LLC
Hours of Operation:
Monday – Friday: 7:00 am – 5:00 pm
Saturday: 7:00 – 12:00 pm
Sunday: Closed, please use Contact Us below.
Phone: (203) 208-0517
Payment Methods:

Website Reviews
98 Reviews – 4.9 / 5